Classes Coming Soon






Bernina Mastery Class




Friday, October 9, from 10am-4pm
Class is FREE, but limited to the first 6 people to sign up online.
Click on Bernina below to sign up for the class.




This class is limited to Heirloom Elegance customers who have purchased a Bernina
(not Bernette or Serger) from us,
and who have not yet received their basic instruction on using their machine.
There will be a one hour break for lunch.
Bring a list of your questions with you!





Journey to Nebula - Jawbreaker





The Jawbreaker pattern uses 2 1/2 inch strips, fabric and the Jaybird ruler Hex N More




to make this colorful pillow.

You must provide your own ruler, pattern, fabric, thread, sewing machine and basic sewing supplies. We have them in stock if you need any supplies. Must have basic sewing or quilting experience. This is an ongoing series of classes available for those who first sign-up for it.





If you can, please




click on the picture below to register for the class.




We can only accommodate 6 people at a time


because of Covid precautions.

Saturday, October 10, from 1pm - 3pm
Class is FREE, but limited to the first 6 people to sign up online.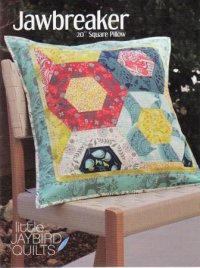 Sewing Little Things Class



Saturday, October 17, 12:30pm-4pm
Class is limited to 6 people.
Click on the picture below to register.
Cost: $40

In this three hour class, students will make items of their choice including potholders, mug rugs, pincushions, glasses case, tissue holders and luggage tags. Seasonal items may be included depending on time of year. Teacher will bring lots of items for inspiration and lots of tips to make your gifts special. You will leave with one or more complete projects!


Class Policy Below is for all classes:
Signing up for Classes is easy!
Click on each class link above to reach the sign-in page, or register at our store.
Class supply lists are available at our store and you get 15% off
any class supplies when you sign up for classes.
Pre-Registration is required

for taking classes

,
as instructors need to make preparations for students ahead of time.
A 24-hour in-advance cancellation is required to receive your money back
if you cannot make the class.
For free classes, please be considerate in cancelling 24 hours in advance
so others may take advantage of free classes.